Athletes spend countless hours perfecting their physical training in preparation for a competition, but what about mentally?
Focus is important. Without it, remembering what you've practiced might be a challenge. Learning to manage stress properly and control excitement can help improve your competitive mindset.
How can you mentally prepare for a game or race? 
How to mentally prepare for an athletic activity varies from person to person. A lot of athletes like to develop routines that help them get into the right mindset.
"I have to spend time on my own away from other people's conversations, and I have to stick to my pre-race routine of two breakfasts and quiet time. I arrive at a race as close as possible to the start time so that I don't get caught up in the frenzy of what's happening," said Victoria Stears, an ASICS FrontRunner member.
Be your best by following these four tips on how to calm your nerves before a competition.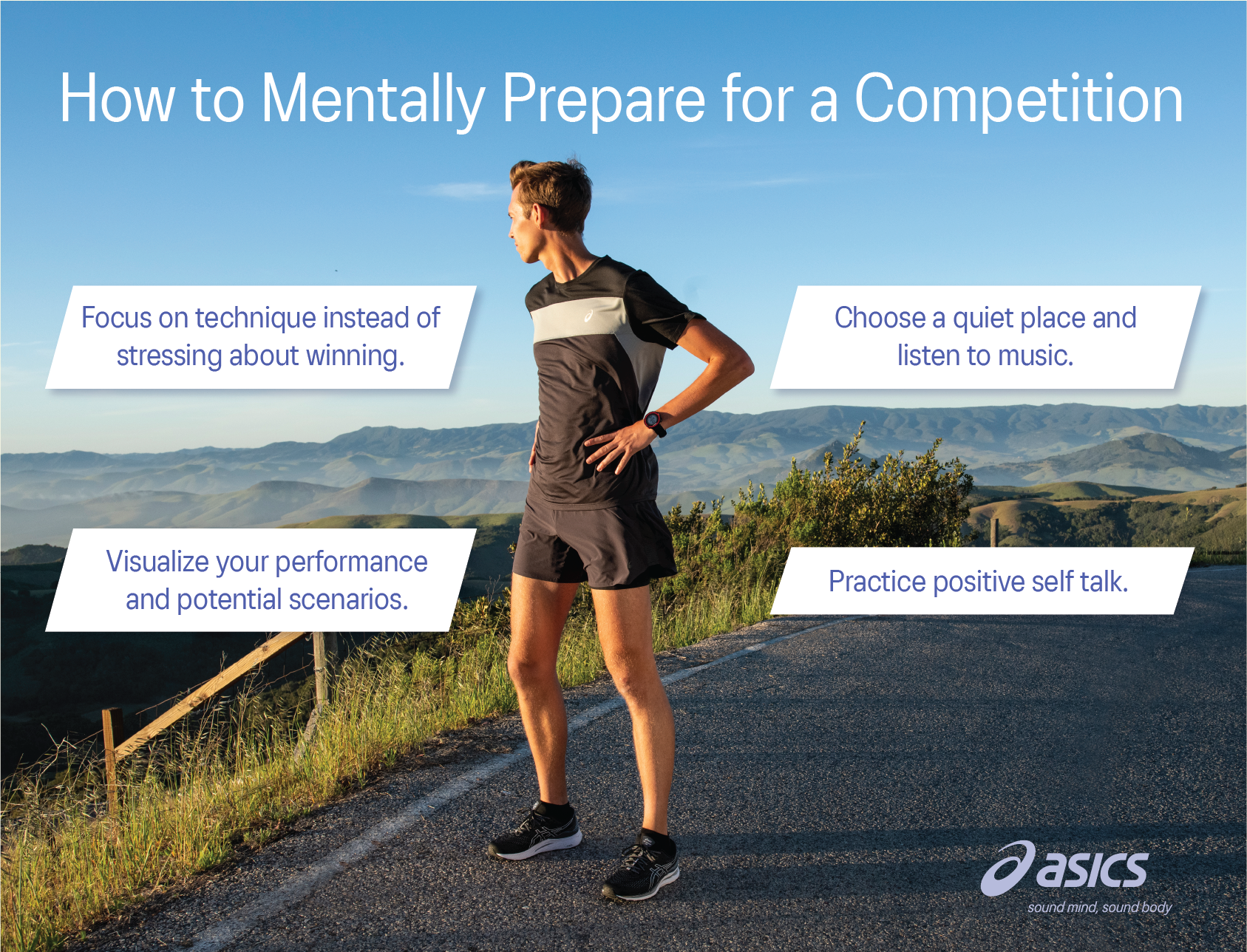 1. Focus on technique instead of stressing about winning
If you become consumed with pre-race nerves and think about the final result, you may get distracted from the actions you must perform to get there. Learn to ignore the factors that you don't have control over such as weather or terrain. Instead of stressing, focus on the details you need to execute during the competition.
"I try to focus on what I can control rather than worrying about things I can't," said Vicky Ledbury, an ASICS FrontRunner member. "For longer races, I try and break it into sections, and once I hit halfway I focus on the fact that I'm closer to the finish than the start."
2. Visualize your performance and potential scenarios
Many talented athletes practice visualization to mentally prepare for a competition. They imagine potential scenarios and determine how they'll respond in advance. This helps athletes react quickly when presented with the same scenario in real life.
"I prepare all that I need for the race day in advance, so I don't get extra unnecessary stress on the big day," said Tanja Gaivoronski," an ASICS FrontRunner member. "I try to visualize the race, my goal and reaching that goal. I might listen to my favorite running songs or some motivational speeches."
3. Choose a quiet place and listen to music
Some people like to calm their pre-race nerves by listening to loud, fast-paced music. Others choose to listen to calming music or to meditate in a quiet space. Find out which method works best for you and make sure to replicate that feeling prior to competition.

4. Practice Positive Self-Talk
The way you speak to yourself before and during a race can impact your performance. Be mindful and purposeful. You can set yourself up for success by talking through the event in a positive, uplifting way as a coach would motivate their team.
"I practice mindfulness to focus on the moment to calm me down," said Rey Smart, an ASICS FrontRunner member. "I listen to music to give me a boost and I reflect on my training that has prepared me for my race."
No matter the type of competition you're preparing for, it comes down to putting in the training both physically and mentally. Mental preparation before a game or race can make all the difference when it comes time to compete.
Shop ASICS' men's and women's running gear collection for additional motivation to keep you performing at your best.