What are the best running shoes for beginners? There's no easy answer. You'll want to consider the needs of your body, your running plan and your running spots.
Regardless of your situation, your shoes are the foundation for healthy and enjoyable running. Although it's tempting to focus on the way a shoe looks, it's essential that you focus on your needs and running plans instead. These tips for choosing quality running shoes for beginners will help keep you focused on what matters.

3 steps to choosing beginner running shoes
The following tips are from Miho Ikeda, an ASICS Running Club Coach.
Step 1: Start by knowing your foot type
Running seems easy and natural. Just tie on some sneakers, walk out your door and go. Unfortunately, it's not always that simple.
Running with just any pair of shoes can cause minor problems like blisters, tendonitis or shin splints that can limit your progress. Do you need running shoes to run? Absolutely. You want to protect your feet and joints from the repetitive motions of running while enjoying the benefits of exercise. Exceptional starter running shoes can help reduce the chance of blisters and discomfort while providing a high-energy, enjoyable experience. Always start by understanding your foot type and its needs.
Step 2: Take accurate foot measurements
The size and shape of your foot is the best place to start when looking for quality beginner running shoes. Measure foot length, as well as width.
Learn how to measure the length of your foot
To get an accurate measurement of your foot, imagine a straight line from the center of your heel to the center of your longest toe. Measure the length of your foot along this line.
Use a measuring tape to measure your foot circumference
Measuring the circumference also lets you know the height of your foot. Wrap a flexible tape measure around your instep, which is from the bone at the base of your big toe around the pinkie toe and back around.
Understand that there are different foot types
An important thing to keep in mind is that no one's feet are the same. Some runners have narrow or wide feet; they may have fallen or overpronated arches. When shopping ASICS online, you can narrow your search using categories like pronation, width and cushioning. A 3D foot scanner is also available at select ASICS stores, which provides detailed information about your feet and how they're shaped. After getting your results, an in-store professional can then recommend running shoes.

Step 3: Try on different running shoes
You may be surprised by the number of running shoe options available. You have a tremendous amount of styles, colors, shapes, and features to weigh when looking for the best running shoes for beginners. Here are some tips for trying on and comparing your options among good starter running shoes.
Follow the "actual foot size + 1cm" rule when picking running shoes
When you try a pair on and stand up, check to see that the length of the shoe is about 1 cm longer than your foot. This is because weight causes feet to expand. Try this while standing dead-weight on one foot and repeat with the other.
Why is the 1 cm margin important?
That 1 cm margin is vital for beginners and seasoned runners alike. While walking, you have two feet on the ground through at least half of your stride. Because you're always on one foot when running, the weight load on your legs is about three times your body weight. The arch of your foot acts like a spring, absorbing some of the shock with each stride and as a result, elongates slightly.
If you don't have that space, your toes can jam against the front of your shoe with every step. Should you wear an improperly fitting shoe, you can develop cracked or discolored toenails, or face a potential injury.
How to check for comfort with your new beginner running shoes
The next thing to check for when evaluating the best beginner running shoes is overall fit and comfort. You want to feel comfortable, yet stable as you move. Carefully lace up the shoe for a secure — but not overly tight—fit. Walk around, stand on one leg, and repeat on the other. You may need to select a wider width if you experience pressure or discomfort.
3 tips when trying on beginner running shoes
The following tips are from Hiroshi Kotani, an ASICS Running Club Coach.
1. Match your heels
It's important to ensure that your feet are secure in the shoes you wear so that they don't loosen or potentially fall off during your running session. After putting your feet in the shoes, put your heels on the floor and put your heels together. Your feet should be gently supported in the heel area of the shoe.
2. Loosen all laces
The first time you try on a pair of running shoes, loosen the laces from top to bottom. Carefully pick up the slack in the laces, starting from the bottom by your toes and working up to the top of the shoe. You want even tension across all the laces. The goal is even comfort. Keep your feet secure without constricting blood flow or potentially increasing the risk of blisters.
3. Check for discomfort in your toes, arches, cuffs and ankles
Do you have room in the toes? Are there any spots that are tight and pinching? Does the area around your ankle provide appropriate support? Does your arch feel natural and supported, too? You might fall in love with a shoe's appearance, but they may not be the best option for you if you notice some discomfort when trying them on.
Recommended ASICS running shoes for beginners
Beginners finding good running shoes should also think about what kind of running they plan to do. For example, a short-distance runner may want different shoes than a marathoner. If you are planning on going off trail, you need other considerations. Each of the options below have different features for different varieties of running and feet. If your toes turn out or turn in, you might want to study the advice in this pronation guide.


For an serious, balanced run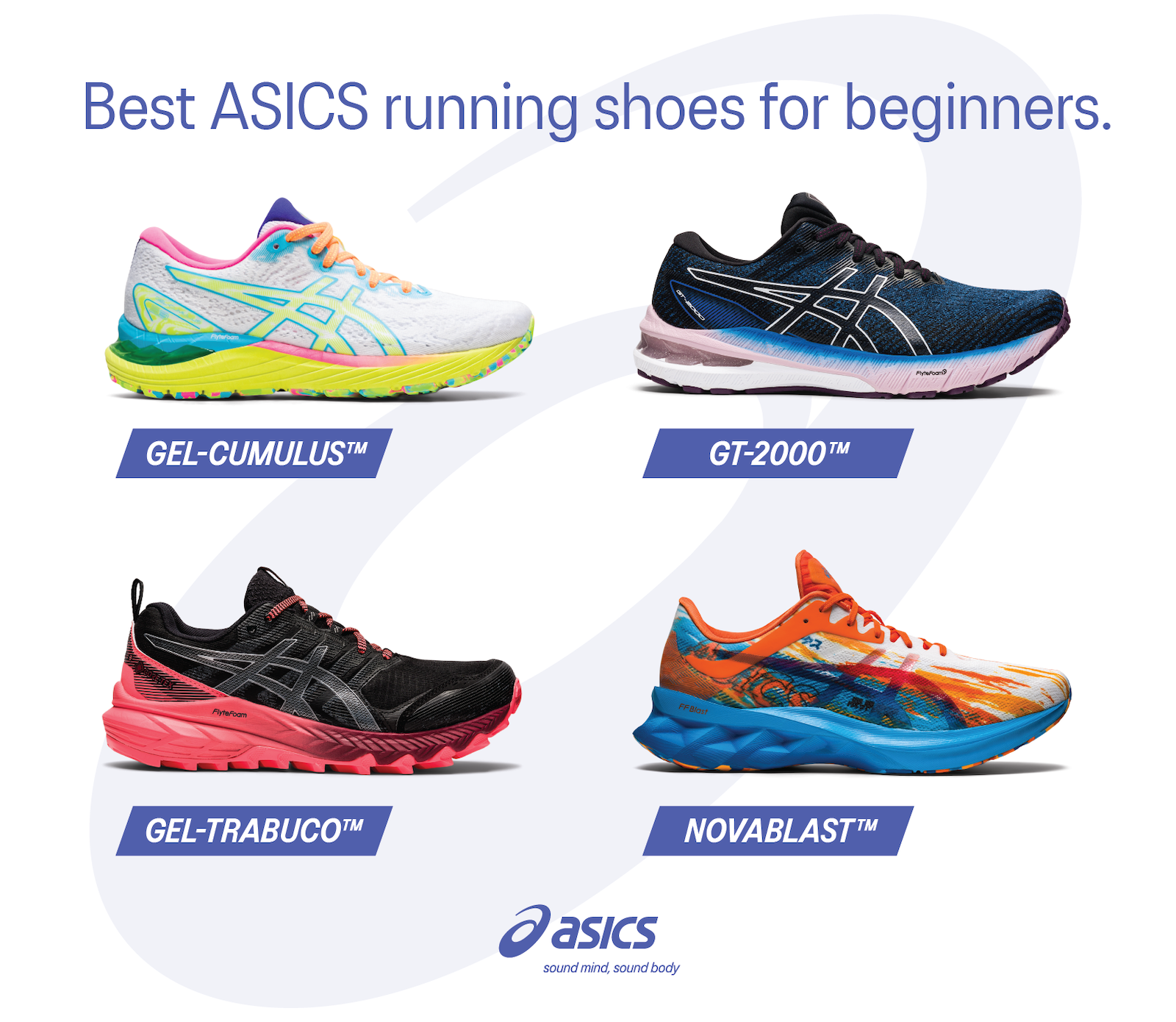 The GEL-CUMULUS™ running shoe is designed for a stable and smooth stride with a responsive sole that both cushions and delivers energy with each step. With GEL™ technology, this ASICS running shoe provides shock absorption. The GEL-CUMULUS™ series features a variety of models.
This series has a long history at ASICS. The FLYTEFOAM™ Propel midsole provides a softer but still supportive feel and plenty of bounce. It is designed for increased ground contact, which helps with off-road traction. The sole flexes for a smooth transition through your stride. These are good starter running shoes for a confident journey ahead.
For trail running
The GEL-TRABUCO™ shoe may be able to assist you when it comes to trail running. This shoe model helps you propel forward on any trail, with advanced traction both uphill and downhill to help you conquer your run. Some GEL-TRABUCO™ models also feature a GORE-TEX™ upper, which helps to keep your feet dry when running in wet conditions.
H3: For casual runs with a bouncy feeling
The NOVABLAST™ line could give you an energetic and bouncy rebound. Beginner runners often need to build up their stamina. The trampoline-inspired outsole design provides additional bounce when you toe-off. Heel stabilizers support a more balanced stride. The FLYTEFOAM™ Blast cushioning provides a softer landing with each step as you build your endurance and work on your form.