Running may be a relatively inexpensive sport, but investing in the right gear can help you fall in love even more with your new hobby along with help maintain healthy feet. One of the most important pieces of gear needed to be a runner? The right pair of running shoes for you. Here's how to pick a pair most suitable for you.
1. DON'T JUDGE A SHOE BY IT'S COLOUR
The first step for choosing running shoes, refrain from shopping by appearances first. While you may be a fan of a certain shoe's colour combination or style, those features are less important than how the shoes fit your feet.
2. VISIT A RUNNING EXPERT STORE
If you've never tried out running styles before, find a specialist running shoe store with a knowledgeable staff who can give you personalised attention. They'll be able to recommend styles that work with your foot, especially if you have flat, narrow, or wide feet or have other running-related issues. Visit an ASICS Running Expert near you or the ASICS New Zealand Flagship store in Auckland. There you can walk in for a 30-minute Foot ID service, which will evaluate your foot shape, pronation, and gait to find the right type of shoe for you.
3. KNOW YOUR RUNNING STYLE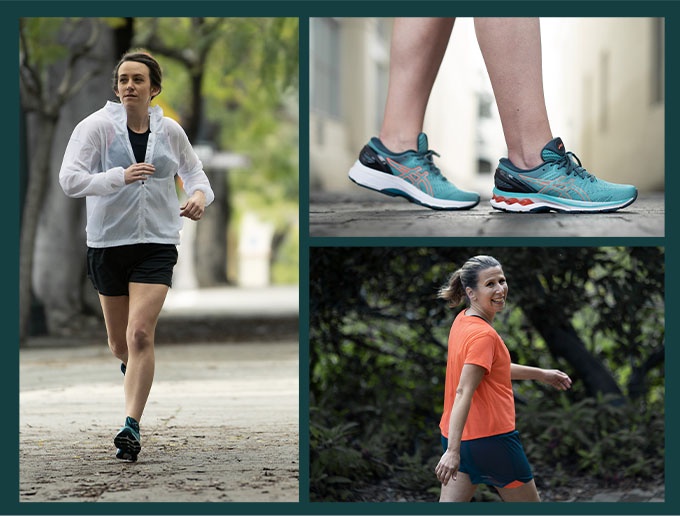 Besides fit, an expert will be able to evaluate your running style in order to find the right pair for you. Knowing if you overpronate, which is when your feet turn in while you run or underpronate, when your feet turn out, will help steer you to the ideal shoe. The type of pronation you have can mean you need more cushioning or stability to best support your running. If you already know your gait characteristics, visit our Guide to ASICS Running Shoes for an outline of the features in some of the most popular styles.
4. CHECK FOR THE BEST SHOE FIT
When trying on a pair of shoes, pay attention to how you feel in them. They shouldn't be too roomy or too snug, with adequate space in the toe box (about 1 centimetre between your toes and the top of the shoe is perfect). Shoes should also hold your ankle well. Anything too loose or too tight can lead to blisters and foot pain, so take a walk around in a pair you're testing to make sure your foot feels right when you're moving.
5. TAKE A TEST RUN
Then, take them for a test drive. Your foot expands when you run, so you'll need to ensure you're trying on the right size. Some experts recommend going a half size up from your normal shoe size when buying running shoes, but it can vary between brands. What matters most is testing different shoes so you find what works for and feels best to you. Running Expert Stores have a treadmill for you to take a test run. Some stores will also offer a guarantee period within which you can return the shoes if they are not right. Focus on how you feel in your first run. Many experts say running shoes shouldn't have to be broken in, but rather feel great on your first run.
Most important to remember when picking running shoes, is to take your sneaker shopping seriously. While running shoes can be an expensive investment, the right shoe will take you many kilometres and ensure you stay comfortable, healthy, and happy with your running passion.
For additional help selecting the right running shoes and advice on getting started running, visit our Knowledge Base. If you're ready to find the right shoe for you, see the full collections below:
Find the next perfect pair for you with the ASICS Shoe Finder tool. Answer a few questions and we'll match you with some of the best shoe options.