ASICS' main pillar is a "Sound Mind, Sound Body™". In order to achieve a sound mind in a sound body, we need a sound Earth. Today, ASICS is committed to making a positive impact on people and the planet for the next generation.
Climate change threatens global stability. The linear economy in which the world currently operates takes, makes and wastes resources, accounting for 45% of global greenhouse gas emissions. In the apparel industry, it's said that less than 1% of material used to produce clothing is recycled into new clothing.
ASICS takes a circular business approach to addressing climate change, with the goals of using less materials, increasing recycling rates and making products in a more efficient way. To further expand its environmental conservation efforts, ASICS became the first Japanese company in The Fashion Pact, a textile industry collective committed to mitigating climate change, restoring biodiversity and protecting the oceans.
ASICS key sustainability achievements
In 2020, ASICS enacted four major initiatives designed to improve sustainability.
The company reduced carbon emissions by 25% from direct operations and 30.8% from supply chains as compared to 2015. More than 90% of new ASICS running shoes from 2021 contain at least 20% recycled polyester in the shoe's main upper material. About 23% of the electricity used in ASICS' facilities is renewably sourced.
Reducing CO2 emissions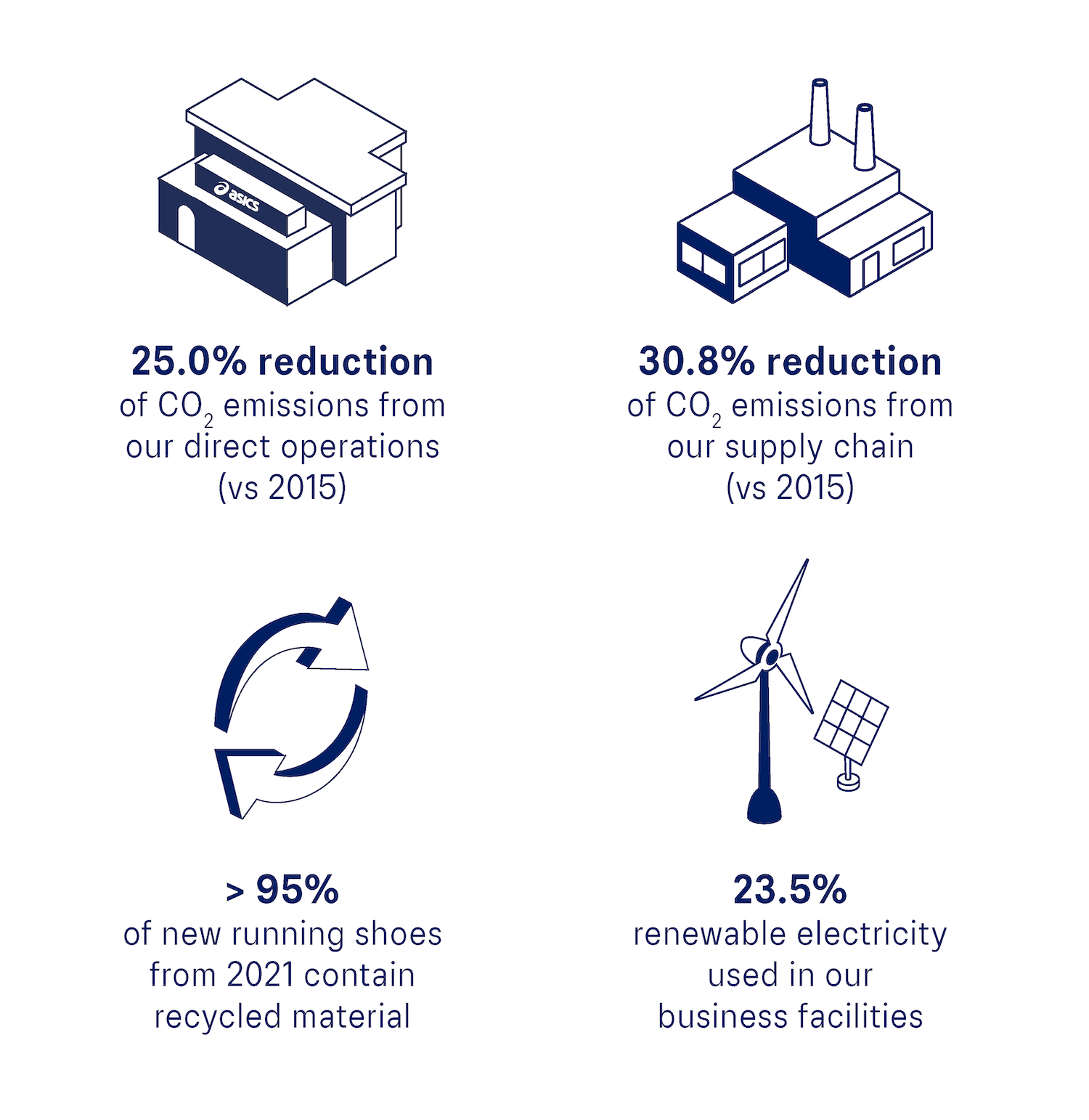 Reducing carbon emissions significantly between 2015 and 2020 is one of ASICS' major achievements.
25.0% reduction in CO₂ emissions from direct operation (compared to 2015)
30.8% reduction of CO₂ emissions from supply chain (compared to 2015)
Shifting to renewable energy sources
In Japan, five locations are already sourcing renewable energy, including ASICS headquarters and the Institute of Sport Science.
23.5% renewable electricity used in business facilities as of 2020
Using recycled & sustainable materials in products
From 2020 to 2030, ASICS aims to increase the use of environmentally-friendly materials within its shoe and apparel lines.
19.5% recycled polyester used as part of ASICS' total polyester fabric consumption
Over 90% of new running shoes created in 2021 contain at least 20% recycled polyester in the shoe's main upper material
87% of the leather used in ASICS and Onitsuka Tiger branded footwear was sourced from Leather Working Group (LWG) medal-rated suppliers in 2020
Improving manufacturing processes
Supply chain manufacturing accounts for more than 65% of environmental impacts. ASICS conducted a product life cycle assessment between 2015 and 2020 showing that most impacts related to footwear are in connection with the manufacturing process.
In 2020, in its footwear Tier 1 suppliers as compared to 2015, ASICS achieved a:
41.8% decrease in CO₂ emissions for every pair of shoes manufactured
20.2% decrease in water consumption for every pair of shoes manufactured
8.6% decrease in waste emissions for every pair of shoes manufactured
Towards a circular business model
The Ellen MacArthur Foundation reported that 73% of clothing materials end up in landfills or are burned once they reach the end of their lifespan. ASICS is creating a circular business model by reusing or recycling products and ​materials. This reduces greenhouse gas emissions.



 How ASICS achieves innovation through partnership
In Europe: ASICS EMEA Europe partnered with Netherlands-based ReAct Sustains program. Defective items are recycled instead of sent to landfills or incinerators. Shoes returned to stores go to FastFeetGrinded where they are ground up into their component materials to be repurposed into new footwear.
In the USA: ASICS America partnered with GiveBackBox. Consumers can fill ASICS product boxes with gently used items. After filling the box and using the provided shipping label, consumers can send it to a participating local charity to be recycled instead of the items being sent to landfills.
In Japan: ASICS Japan launched the Green Bag Project. The bag is made with recycled textiles and plastics. Part of the profits made from bag sales support people and communities. This initiative aims to connect products to people, and people to communities.
ASICS: Moving towards a sustainable future
ASICS is constantly moving towards a more sustainable future with VISION2030, a long-term plan for the period leading up to the year 2030. Within the next 10 years and beyond, ASICS plans to expand its business in three domains: Product, Facility and Community, and Analysis and Diagnosis.
Focusing on personalized and sustainable products and services illustrates ASICS' dedication to People, to the Planet, and to a "Sound Mind, Sound Body™".