Made for the netball court
Your choice of shoes when playing Netball is important. Netball and Running shoes may appear similar but they're not.
Running shoes are designed for running in a straightforward direction. Netball shoes are designed to pivot, change direction, jump, land, take off quickly and stop suddenly. 
Netball Shoes are made specifically for these movements to protect Netballers of all abilities.


NETBURNER PROFESSIONAL FF 2
"The NETBURNER PROFESSIONAL FF 2 has extended flex grooves in the forefoot, which allow greater agility for me to move freely and quickly around the court"
~ Liz Watson

NETBURNER BALLISTIC FF 2
"When I play netball, I want maximum stability and support from my shoes. The NETBURNER BALLISTIC FF 2 has increased rubber in the outsole that provides greater ground contact. This provides me better control and stability on-court".
~ Paige Hadley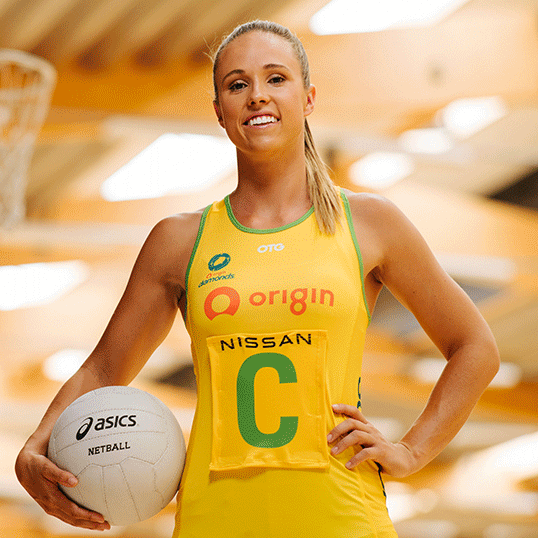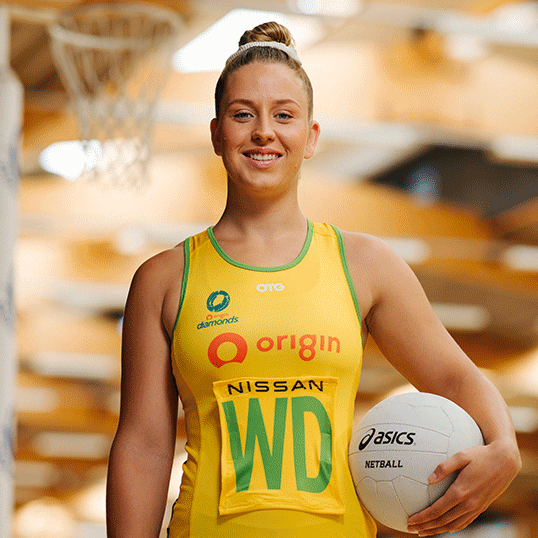 NETBURNER SUPER FF
"When I play netball, the right mix of speed and support is essential on-court. The NETBURNER SUPER FF has a Multi-directional X-Groove in the forefoot that helps change direction rapidly and efficiently while the shoe provides all the support features required from a Netball shoe"
~ Jamie-Lee Price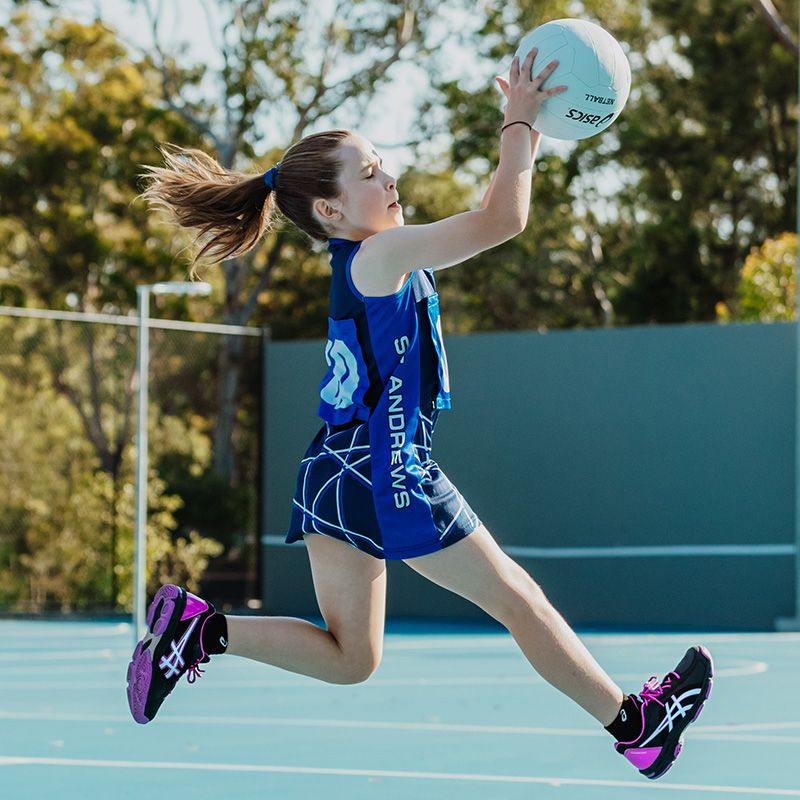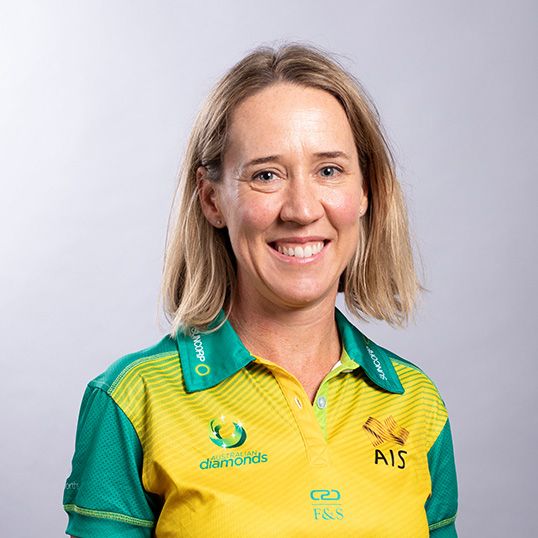 Alanna Antcliff APAM
Head Physiotherapist Australian Diamonds | Netball Australia

Alanna Antcliff is an accredited APA Sport and Exercise Physiotherapist with over 20 years' experience working with elite sporting teams and individuals. 
She is the Physiotherapist for the Australian Netball Diamonds and National Netball Pathway, a role she has held since 2011. She also currently works for the Sydney Swans as a Consultant Physiotherapist and has previously worked with Olympic/National athletes at the NSW Institute of Sport.

Q&A with Alanna Antcliff
Tell us about the importance about wearing the right shoes for specific sport related activity? And how are ASICS Netball shoes different from wearing running shoes.

Wearing shoes designed for your specific sports not only allows for great comfort, but can also assist with peak performance and more importantly, injury prevention. Running shoes are built with a straight-line motion in mind, whereas Netball involves a completely different set of movements. Sporting footwear needs to cater for the different movements in the given sport.

ASICS Netball shoes are built specifically for the unique requirements of netball - in particular the need to stop suddenly and assist with the multiple change of direction and side-to-side movement patterns. An elite netballer can jump an average of 200 times per game, which equates to 200 landings. ASICS netball shoes are equipped with strategically placed GEL cushioning systems for the much-needed shock absorption, while providing a stable base and platform in order to change direction quickly. Along with the cushioning aspects, the uppers and outsoles are also built to support and withstand the extreme forces involved with the sport.
Can you tell us about how wearing incorrect footwear may cause injuries and how they can be avoided?

Incorrect footwear may be one of a number of factors that lead to injuries that could otherwise be avoided. These include (but are not limited to) localised injuries to the feet, for e.g. foot pressure/blister injuries in addition to injuries further up the chain by indirectly loading these areas. Ensuring your specific foot posture fits your chosen shoe and taking the time to wear these shoes in over gradual increments are two ways risks can be reduced. 

As mentioned previously, a running shoe simply is not designed to deal with the sudden movements and change of directions seen in the game of netball. Wearing anything other than a netball shoe on the court could potentially contribute to injury due to lack of stability, grip and overall protection.
What are some of the most common injuries you see with netball players and are they related to the incorrect footwear? If so, please elaborate?

The most common injuries in Australian netballers are injuries to the lower limb, with the vast majority being injuries to ankles and knees. Rolling the ankle is a particularly common injury given the requirement to stop suddenly many times per game. Wearing a shoe without sufficient lateral stability is one factor that may contribute to these injuries. Foot and blister injuries are more common in congested tournament style play and while one of a number of factors, incorrect footwear may play a part in this. Being fitted correctly is also a critical factor to the shoe operating at its best for the athlete.
What are some preventative measures that can be taken to ensure no injuries take place while playing netball?

With participation comes injury risk and in netball the need for repeated landings, sudden deceleration and change of direction does heighten injury risk if insufficiently prepared. So, while it is unrealistic to ensure no injuries take place while playing netball, injury risk can be reduced by ensuring adequate preparation / warm up, ensuring you follow a graduated training plan and continuing with consistent focus on strength to muscles that control the lower limb, enhancing neuromuscular control and rehearsing quality jump/landing technique. Go to Netball Australia's KNEE program, freely accessible at knee.netball.com.au for further information.
What would you tell netball players to watch out for?

Make sure you listen to your body and prepare it as best you can for the demands of netball. Be it through consistent injury prevention strategies, graduated training planning or ensuring you have the right equipment to support you. All these aspects will help ensure your body stays happy and you can continue to enjoy the many benefits that come with playing netball. Finally, we feel it's very important for players to wear footwear designed for the sport of netball, and picking a model that suits your foot type and playing style.
THE 2021 ASICS NETBALL WEAR FACTOR GUIDE
It is no secret that netball is one of the most punishing sports on footwear and the lower limbs. When it comes to the comfort and
durability of your ASICS netball shoes it is vital to consider two very important factors: your technique and the surface that you are playing on. Identifying these will help you to purchase a shoe that is going to feel better and last longer.

LOW-MEDIUM WEAR
Players who show even wear in all areas of the outsole. For players who like to use a running shoe but find it wears prematurely.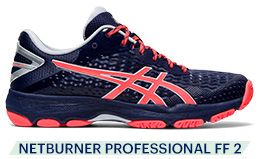 MEDIUM WEAR
Players who wear the front toe and medial (inside) forefoot area quite severely compared to the other portions of the  outsole.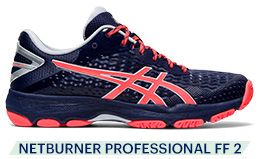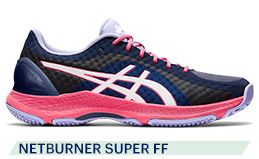 MEDIUM-HIGH WEAR
Players who wear the front
toe and medial (inside)
forefoot area before other
areas of the shoe.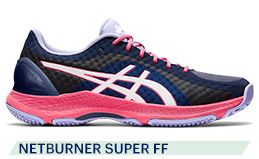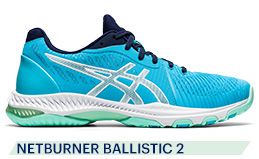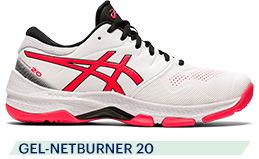 HIGH WEAR
Players who wear out the outsole completely in all areas including the toe and inside forefoot area, the ball of the foot and the heel area of the shoe.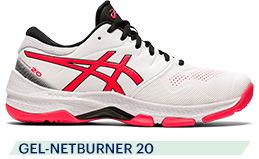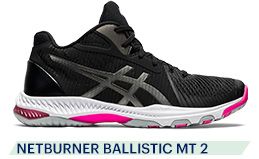 This chart is intended as a guide for netballers who are aware of their own wear factor. If you're in doubt as to your wear factor, ask the ASICS salesperson for assistance.